Lawnifi is a liquid fertilizer program powered by Catalyst Technology. For optimal results, feed your lawn monthly during the active growing season (spring, summer, fall). Simply attach a hose to the sprayer top and apply evenly to your lawn.
2 BOTTLES OF GROW
1 BOTTLE OF MAINTAIN
The New Lawn Starter Box contains everything newly seeded or sodded lawns need to establish thick, healthy grass including two bottles of Grow for improved soil health and one bottle of Maintain to feed the lawn.
Begin with an application of Grow immediately after installation. Grow will promote healthy root growth of newly installed grass by providing important nutrients like phosphorus, potassium, and carbon. Begin regularly mowing your new lawn 10-14 days after installation or once the sod is not easily lifted from the soil.
Apply a second application of Grow two weeks after the initial application. A second application of Grow will accelerate root growth so that the newly installed lawn tacks down properly. The Grow formula provides essential nutrients to the plants in a form that is readily available for healthy lawn establishment.
Apply Maintain four weeks after installation. Maintain will enhance the color of your new lawn by providing iron and nitrogen. Maintain also contributes to healthy soil composition by delivering amino acids and microbes.
Keep your sod healthy and protect your lawn investment by continuing with regular monthly Lawnifi feedings. For optimal results, feed your lawn monthly during the active growing season (spring, summer, fall). Learn more about Lawnifi Seasonal Boxes and the Lawnifi Annual Subscription Program.
Please refer to the application schedule below.
APPLICATION SCHEDULE
The first application of Grow can be made anytime the first week after installation and should be used to water your lawn to encourage enhanced root growth and soil health.
Apply Grow again two weeks following the initial application.
Apply Maintain four weeks after laying and then transition to the Complete Seasonal Lawnifi program for a healthy and happy lawn.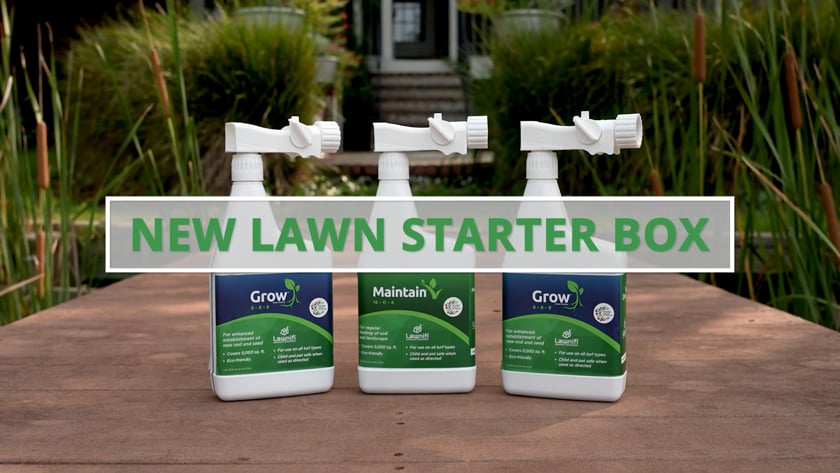 Best choice so far
My order is always a day after the promise date. But it's quality and the fertilizer package is superior to any thing else I have purchased. I will use this company every time.
Easy to use
Getting ready to use the second bottle, lawn greening up. Looking good. Still takes work but hoping will be worth it.
Great product!
Easy to use and works great!
Congratulations on your newly sodded lawn! If you are like most homeowners, you have entered into the "now ...
READ MORE

→
We at Sod Solutions receive a large amount of questions surrounding the topic of our Lawnifi® liquid fertilizer program ...
READ MORE

→
Selecting the perfect fertilizer is a crucial step in the overall success of your lawn. Finding a fertilizer ...
READ MORE

→