Lawnifi is a liquid fertilizer program powered by Catalyst Technology. For optimal results, feed your lawn monthly during the active growing season (spring, summer, fall). Simply attach a hose to the sprayer top and apply evenly to your lawn.
2 BOTTLES OF MAINTAIN
1 BOTTLE OF BOOST
Apply one application of Maintain at the start of spring to promote healthy roots and the return of green leaf blades after winter dormancy. In mid-spring, apply Boost to deepen the green appearance of your lawn. Boost will deliver greening benefits to your lawn immediately, and long into the season because of its time-release formula. In late spring, use the remaining bottle of Maintain to prep your lawn for the heat and stress of summer. Our patented nano-fertilizers with Catalyst Technology give your lawn the jump-start it needs to emerge from dormancy, green up fast, and thrive throughout the spring months.
Throughout the seasons, the nutritional needs of your lawn vary as temperatures, soil conditions, and other environmental demands change. Please refer to the application schedule below.
APPLICATION SCHEDULE
Make the first application of MAINTAIN any time in the first few weeks of spring.
Apply the second application of BOOST four weeks following your initial application.
Four weeks following your last application, apply MAINTAIN before beginning your summer fertilizer maintenance program.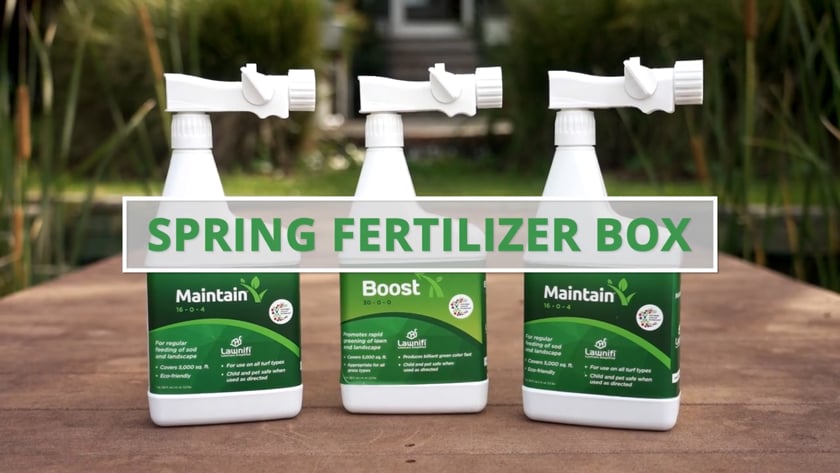 🙂
So much easier than handling heavy bags of granular fertilizer and dealing with a spreader. Just made the first application, hope it works.
Works great!
I have used this product several years and am very pleased. Easy to apply and according to my neighbors I have a great looking lawn!
Saving My Grass
I have used the Spring Box at a previous home and was sold on it. It's currently mid February so I have not begun application. Previous results have proven satisfactory so,I am assured this application will be just as good.
With the first day of spring approaching, warmer weather signals plants to come out of dormancy and start ...
READ MORE

→
Selecting the perfect fertilizer is a crucial step in the overall success of your lawn. Finding a fertilizer ...
READ MORE

→
One of the biggest discussions that's occurring related to lawn care is the use of granular vs. liquid ...
READ MORE

→